The Infinix GT 10 Pro is a high-performance smartphone boasting a MediaTek Dimensity 8050 chipset, coupled with 8GB RAM and 256GB internal storage. With a large AMOLED display, a high refresh rate, and a powerful triple camera setup including a 108 MP primary sensor,
it offers a remarkable user experience. Running on Android 13 with XOS 13, and featuring a hefty 5000 mAh battery, the device promises exceptional performance and longevity. It's available in two distinct colors, Cyber Black and Mirage Silver, providing users with aesthetic choices. High refresh rate.
The global smartphone market is a highly competitive arena, teeming with technological advancements and innovative designs. Amidst this, Infinix has emerged as a strong contender, particularly in the budget and mid-range segment.
Known for delivering feature-rich devices at affordable price points, Infinix has carved a unique niche for itself. The release of the Infinix GT 10 Pro exemplifies its commitment to offering top-tier specs without a hefty price tag, further cementing its reputation as a manufacturer that delivers value and performance.
Design and Build Of The Infinix GT 10 Pro
The Infinix GT 10 Pro boasts an impressive design and solid build quality that truly stands out in its category. With a sleek body, the smartphone is encased in a robust frame that ensures durability. On the back, the triple camera setup is neatly organized,
adding to the device's elegant aesthetics. The smartphone provides a secure grip and is comfortable to hold thanks to its ergonomic design. Available in two distinctive colors, Cyber Black and Mirage Silver, the device caters to varying style preferences.
Overall, the Infinix GT 10 Pro scores high on both looks and build, offering a design that is as sturdy as it is appealing
Dimensions: 162.7 x 75.9 x 8.1 mm (6.41 x 2.99 x 0.32 in)
Weight: 187 g (6.60 oz)
SIM: Dual SIM (Nano-SIM, dual stand-by)
LED strip on the back
Infinix GT 10 Pro: Unraveling the Brilliance of the AMOLED Display
The Infinix GT 10 Pro features an expansive AMOLED display that truly sets a benchmark in its category. With a screen size that guarantees an immersive viewing experience, the smartphone offers a resolution of 1080 x 2400 pixels, ensuring sharp, vivid, and true-to-life visuals.
The 120Hz refresh rate is another standout aspect, providing smooth transitions and enhancing the overall user experience, especially while gaming or streaming high-definition content. The display also features excellent viewing angles, high contrast ratio, and impressive brightness levels,
making it perfect for use in diverse lighting conditions. In essence, the brilliance of the display on the Infinix GT 10 Pro enhances every interaction, making it a delight for both content creators and consumers.
DISPLAY Type: AMOLED, 1B colors, 120Hz, 900 nits (peak)
Size: 6.67 inches, 107.4 cm2 (~87.0% screen-to-body ratio)
Resolution: 1080 x 2400 pixels, 20:9 ratio (~395 ppi density)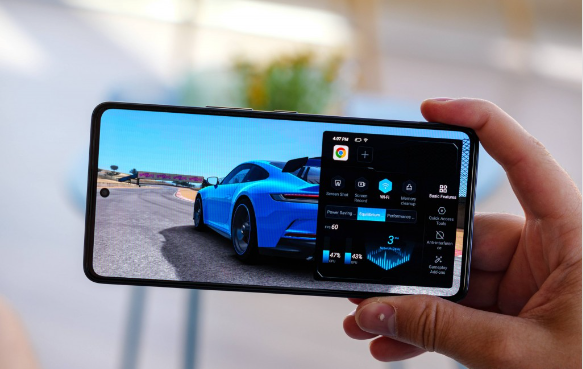 Infinix GT 10 Pro Performance Analysis: Powering through with the Mediatek Dimensity 8050
The Infinix GT 10 Pro delivers robust performance, powered by the MediaTek Dimensity 8050 chipset. This flagship-grade chipset ensures that the device runs smoothly, even when handling resource-intensive tasks or running heavy applications.
Paired with 8GB of RAM, the smartphone offers excellent multitasking capabilities, allowing users to switch between multiple apps without experiencing any noticeable lag. For gaming enthusiasts, the chipset guarantees a lag-free and immersive gaming experience, even with high-end games.
Furthermore, with its advanced AI capabilities, the chipset also enhances the device's camera and battery performance. In a nutshell, the Infinix GT 10 Pro, with its powerful chipset and ample RAM, offers a smooth and responsive user experience, making it an appealing choice for both casual users and tech enthusiasts.
Chipset: Mediatek Dimensity 8050 (6 nm)
CPU: Octa-core (1×3.0 GHz Cortex-A78 & 3×2.6 GHz Cortex-A78 & 4×2.0 GHz Cortex-A55)
GPU: Mali-G77 MC9
Infinix GT 10 Pro Storage Capabilities: A Deep Dive into the 256GB Storage
The Infinix GT 10 Pro comes equipped with a generous 256GB internal storage capacity, providing ample space for all your apps, photos, videos, and other data. This considerable storage space ensures that users can download and store a significant number of high-end games,
high-resolution photos, and videos without worrying about running out of space. Additionally, the device offers expandable storage options, meaning that users can further increase the storage capacity based on their individual needs.
This is particularly beneficial for users who store a lot of multimedia content or use their devices for professional purposes. In short, the Infinix GT 10 Pro addresses all storage needs, making it a highly practical and versatile choice for a wide range of users.
Memory
Card slot: microSDXC (dedicated slot)
Internal: 256GB 8GB RAM UFS 3.1
The Triple Camera Setup: Capturing the World with the Infinix GT 10 Pro
The Infinix GT 10 Pro sets a high bar in mobile photography with its advanced triple camera setup. It comprises a high-resolution primary sensor, an ultra-wide-angle lens for expansive shots, and a macro lens for detailed close-ups.
This combination offers users the flexibility to capture a variety of scenes, from sweeping landscapes to intricate details in nature. The camera software is equally impressive, providing a host of features for enhanced photography such as Night mode, HDR, and AI scene detection.
Sample images display crisp details, vibrant colors, and a good dynamic range. In essence, the Infinix GT 10 Pro positions itself as a compelling choice for mobile photography enthusiasts, offering a camera experience that elevates every shot.
MAIN CAMERA :
Triple 108 MP, f/1.8, (wide), 1/1.67″, AF
2 MP (macro), 2 MP (depth)
Camera Features: Quad-LED flash, HDR, panorama
Video 4K@30fps, 1080p@30/60fps
SELFIE CAMERA:
Single 32 MP, f/2.5, (wide)
Features Dual-LED flash
Video 1440p@30fps, 1080p@30/60fps
Powering the Day: The 5000mAh Battery and PD3 Fast Charging Feature
Powering the Infinix GT 10 Pro is a robust 5000mAh battery that ensures uninterrupted usage throughout the day. The sizable capacity enables users to engage in a variety of activities – be it gaming, streaming, or multitasking – without worrying about frequent charging.
One of the highlights of the device is the PD3 fast charging feature, which significantly cuts down charging time, providing a quick power boost when needed. Regardless of the intensity of usage, the PD3 fast charging ensures that the device is ready whenever you need it.
Thus, the Infinix GT 10 Pro stands out for its reliable battery life and fast charging feature, making it an ideal companion for users with high device usage.
BATTERY:
Type: Li-Po 5000 mAh, non-removable
Charging: 45W wired, PD3
Smooth Functioning with Android 13 and XOS 13
The Infinix GT 10 Pro runs on the latest Android 13 operating system, providing a smooth, efficient, and user-friendly interface. It is also layered with Infinix's custom skin, XOS 13, which adds a set of unique features and a visually appealing theme to the overall user interface.
XOS 13 offers a seamless user experience with its intuitive layout and easy-to-navigate menus. Additionally, it brings exciting features like game mode for an uninterrupted gaming experience and a smart panel for quick access to frequently used apps.
With its powerful software combination, the Infinix GT 10 Pro promises a smooth and engaging user experience, catering to the needs of all types of smartphone users.
OS: Android 13, XOS 13
Additional Features: More than Just a Smartphone
The Infinix GT 10 Pro isn't just a smartphone; it's a comprehensive multimedia device loaded with a plethora of additional features that increase its utility and convenience. Equipped with stereo speakers and DTS Audio Processing, the device provides an immersive audio experience,
enhancing media consumption and gaming sessions. With its Multi-Functional NFC, not only can you make contactless payments, but you can also pair devices effortlessly. The device also supports Dual 4G VoLTE, ensuring clear and uninterrupted calls.
The Infinix GT 10 Pro also acknowledges the need for privacy and security by incorporating a responsive fingerprint sensor and face recognition, offering users quick and secure access to their devices. These extra features make the Infinix GT 10 Pro more than just a smartphone; they make it a versatile tool that caters to modern digital needs.
Evaluating the Infinix GT 10 Pro: Strengths and Weaknesses
Evaluating the Infinix GT 10 Pro, it becomes clear that the device has several strengths. Its superior display quality, powerful performance backed by the MediaTek Dimensity 8050 chipset and 8GB of RAM, generous internal storage, and advanced triple camera setup all contribute to a high-end user experience.
The robust 5000mAh battery paired with PD3 fast charging, the updated Android 13 operating system with the user-friendly XOS 13 skin, and additional features like stereo speakers, DTS Audio Processing, and Multi-Functional NFC are also notable advantages.
However, potential weaknesses could be the absence of wireless charging, lack of waterproof rating, and potential bloatware that might come with the custom skin. While these do not significantly detract from the device's overall value, they are aspects potential buyers may want to consider.
Pricing and Availability of the Infinix GT 10 Pro
The Infinix GT 10 Pro has been competitively priced, making it an attractive option for those seeking high-end features at a reasonable cost. While the exact price may vary depending on the region and retailer, it's clear that Infinix aims to offer value for money with this device.
As for availability, the Infinix GT 10 Pro is accessible globally through various online and physical retail channels. Prospective buyers are advised to check the availability at their local outlets or preferred online stores for accurate pricing and purchase details.
The device comes in an array of color options, allowing users to choose a design that best reflects their personal style.
Infinix GT 10 Pro: The Final Verdict
In conclusion, the Infinix GT 10 Pro proves itself as a highly capable device that delivers robust performance, impressive camera technology, lasting battery life, and a host of added features, all at a competitive price point. Despite minor shortcomings such as the lack of wireless charging and a waterproof rating,
it offers comprehensive value that can rival many flagship devices in the market. With its expansive offerings and versatility, the Infinix GT 10 Pro is a commendable choice for anyone seeking a smartphone that offers a balance between high-end features and affordability. For its impressive array of features,
user-friendly interface, and competitive pricing, the Infinix GT 10 Pro earns a strong recommendation as a worthwhile investment.