Are you looking for a new Android phone that offers top-notch features and specifications? Look no further than the Infinix GT 10 Pro. This powerful device caters to tech enthusiasts and is designed with high-end technology, sleek design, and unmatched efficiency in mind.
Whether you're looking for a phone to help you work or play, the Infinix GT 10 Pro strikes the perfect balance. In this blog post, we'll take a deep dive into the Infinix GT 10 Pro and its features, and why it should be your next go-to phone.
Design and Display: A Closer Look at the Sleek and User-friendly Infinix GT 10 Pro
One of the standout features of the Infinix GT 10 Pro is its sleek design. With a display of 6.67 inches, this phone offers high-definition visuals with a resolution of 1080 x 2400 pixels. Additionally, the device's body features an ergonomic design with a metallic frame crafted from an aluminum alloy with a glass back and integrated LED lights that give it a sturdy, Cyber-fusion premium look. This design is not only visually appealing, but it also makes the phone easy to grip and use with just one hand.
High Performing Processor
Beneath the hood, the Infinix GT 10 Pro has a MediaTek Dimensity 8050 5G Octa-core processor that ensures the phone runs smoothly and efficiently. The high-speed processor is complemented by 8GB of RAM and 256GB of internal storage which provides enough space for you to store all your files and data without running out of space.
The Infinix GT 10 Pro: Camera Capabilities and Performance
The Infinix GT 10 Pro is equipped with a 108-megapixel Triple back camera, a 32-megapixel front-facing camera, and a quad-flash that offers unmatched picture and video quality. This phone's camera is perfect for photography enthusiasts, content creators, and anyone who wants to capture high-quality visuals. The camera also has features like Artificial Intelligent Scene Detection, Quad-LED flash, HDR, panorama, AI Camera, and Super Night Mode that make your pictures look professional and polished.
Power Management: The 5000mAh Battery and 45W Fast Charging System of the Infinix GT 10 Pro
The GT 10 Pro boasts an impressive 5000mAh battery that can sustain up to 55 hours on a single charge. Additionally, the phone has a 45W fast charging system that guarantees a full charge in less than an hour. This feature ensures that you don't have to worry about your phone dying in the middle of the day, and you can get back to work or play in no time.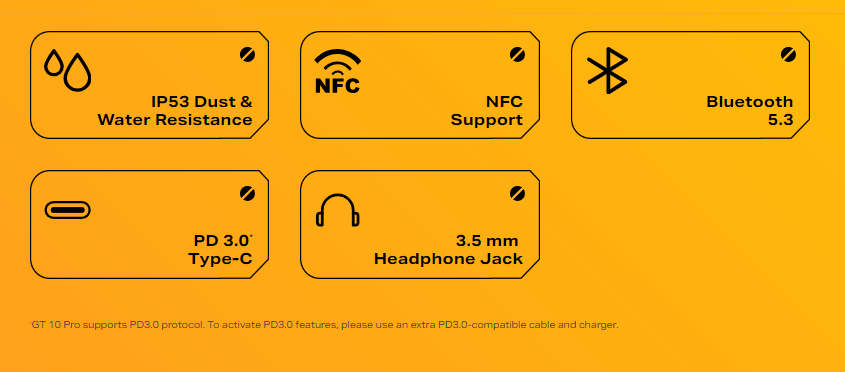 Enhancing User Experience with the Infinix GT 10 Pro
Finally, the GT 10 Pro boasts several user-friendly features, such as an In-display fingerprint scanner and facial recognition system that eliminates the need for passwords and PIN codes. Additionally, the phone has dual speakers and DTS audio processing technology that offers an immersive audio experience.
The Infinix GT 10 Pro: An Excellent Choice for Android Enthusiasts and Tech-Savvy Users
The Infinix GT 10 Pro is indeed an impressive device that caters to the needs of tech enthusiasts, Android users, and anyone looking for a reliable phone. It offers a sleek design, top-notch performance, unmatched camera quality, efficient battery life, and user-friendly features. Whether you're using this device for work or play, you can be sure that it won't let you down. So, if you're in the market for a new Android phone, consider the Infinix GT 10 Pro.